CUSP Quarterly Webinar Series N°1
45Q Enhancements in the Inflation Reduction Act of 2022
We would like to thanks everyone who joined us last September 13th, 2022, for the first episode of our quarterly webinar series. This first meeting allowed us to exchange about securing 45Q tax credits and how to get support from CUSP to develop Carbon Capture Utilization and Storage (CCUS) projects in the western US. Section 45Q of the US tax code provides an incentive for capturing carbon and storing it underground in geologic formations. To learn more about it, we invite you to watch the recording of the webinar on the video below or to follow this link: CUSP Quarterly Webinar Series N1.
Thanks to Dr. Balch for introducing the key elements of the reformed 45Q tax credit (from the Inflation Reduction Act, IRA, of 2022) and how the CUSP Regional Partnership can help you access this credit and develop CCUS projects.
Thanks to Mr. Matt Eales, from Targa Resources, for presenting a concrete example of the development of a CCUS project with CUSP support.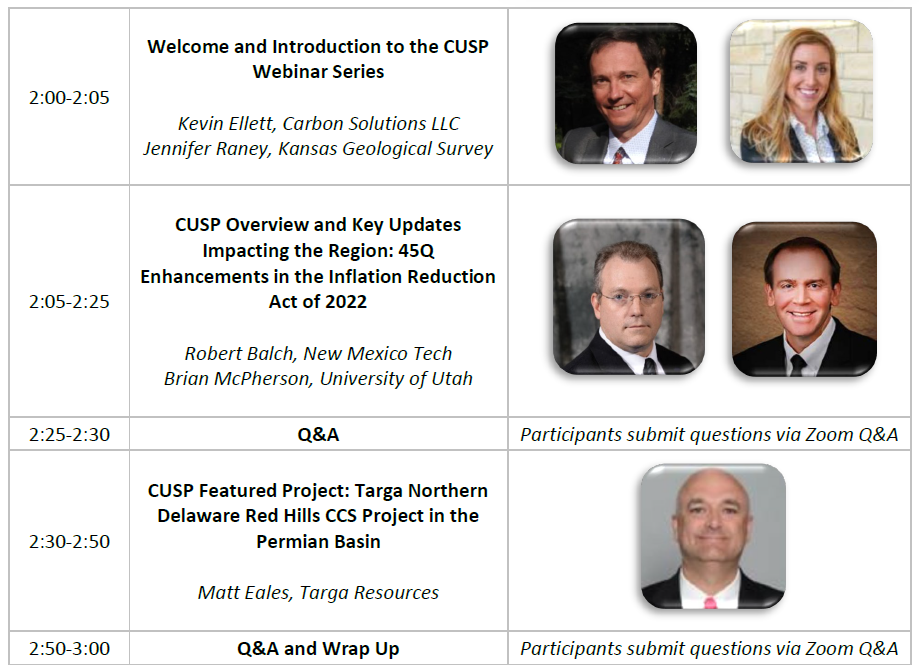 If you missed out, don't worry! You can now access the full webinar recording and the presentation slides: