Regional Carbon Sequestration Partnerships (RCSPs)
The CUSP is one of the four regional initiatives established to support the mission of the U.S. Department of Energy/National Energy Technology Laboratory Carbon Storage and Transport Program. The regional initiatives facilitate and integrate information for their respective regions to accelerate carbon capture, utilization, and storage (CCUS) deployment. 
Our work at CUSP is based on the past, current, and future demonstration projects from the Regional Carbon Sequestration Partnerships (RCSPs). The CUSP utilize the expertise and stakeholder base built by the RCSPs to continue to identify and address knowledge gaps in the widespread, commercial deployment of CCUS.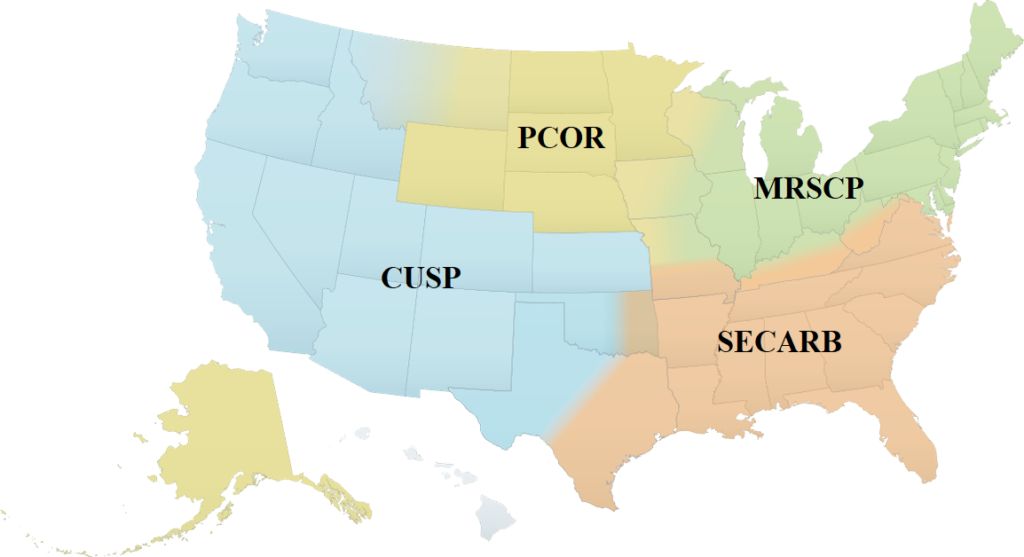 The RCSPs were formed by the U.S. Department of Energy (DOE) in 2003 to create a nationwide network of seven regional partnerships to help determine the best approaches for capturing and permanently storing carbon dioxide. The RCSPs were tasked with determining the most suitable technologies, regulations, and infrastructure for carbon capture, transport, and storage specific to their localization.
Since their creation, the Regional Partnerships:
Established dozens of pilot CCUS projects
Four projects demonstrated storage in conjunction with Enhanced Oil Recovery (EOR)
Developed "Best Practices" for carbon capture, utilization and storage
To have more information about the work carried out by the former RCSPs, navigate the map to get access to their specific websites or DOE/NETL based website.
U.S. Department of Energy's Regional Carbon Sequestration Partnership