For two decades, the Kansas Geological Survey has been investigating the state's subsurface geology and industrial infrastructure to determine the safety and viability of injecting carbon dioxide (CO2) from industrial sources into underground rock formations for long-term storage and to recover hard-to-reach oil. As part of an initiative to share data and advance research on the process, the KGS is now partnering with 15 other state and federal entities from throughout the central and western United States.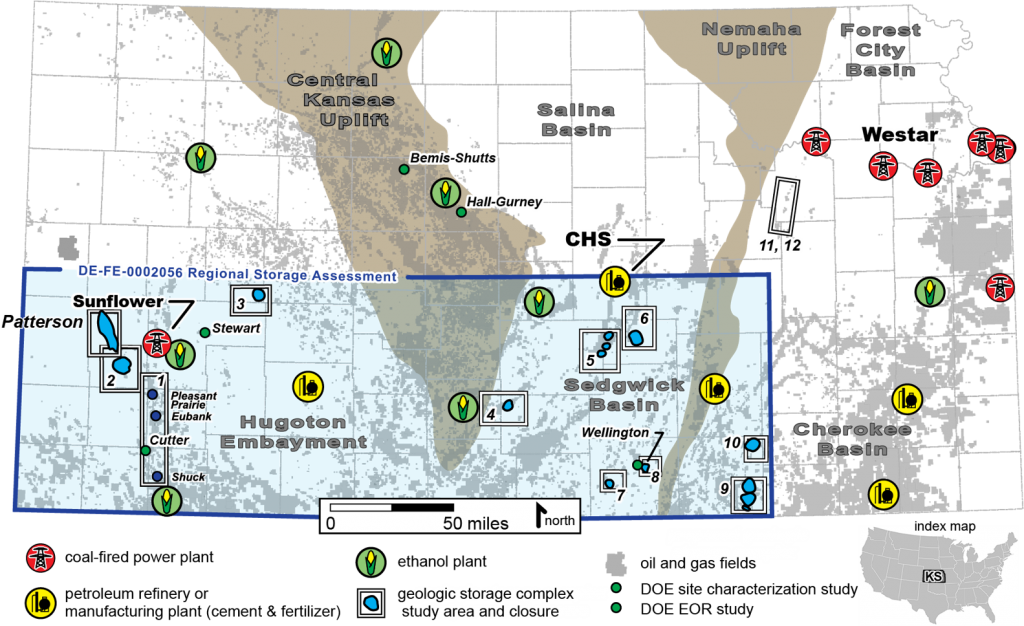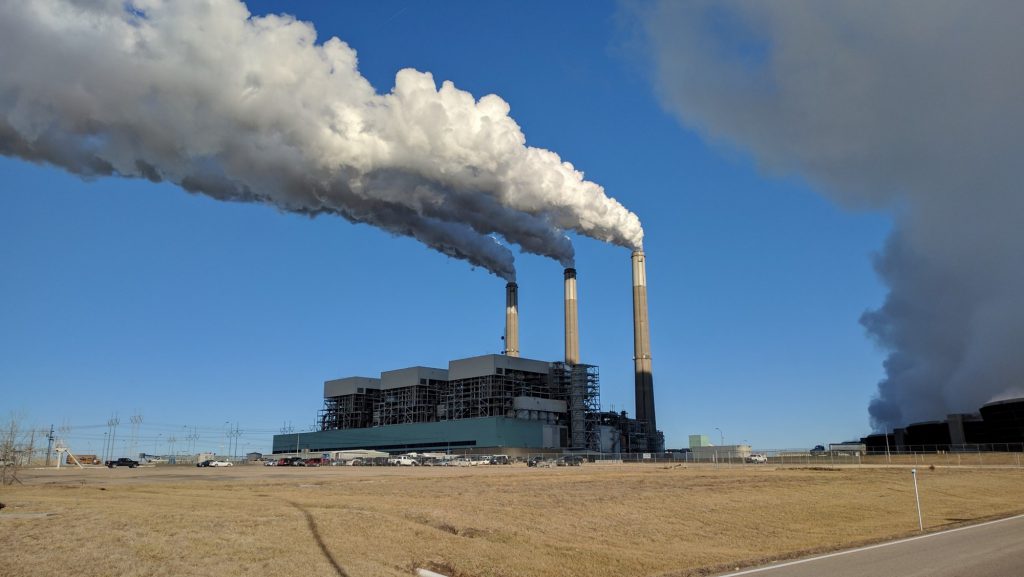 Kansas map showing locations of variety of CO2 sources, possible CO2 pipeline routes, possible CO2 injections sites (numbered 1–12) identified in Watney et al. (2015) located inside the DE-FE0002056 study areas (blue), and oil fields (gray).
Jeffrey Energy Center (Jeffrey EC) is a sub-bituminous coal-fired power plant located in near St. Marys, Kansas. Jeffrey EC is owned by subsidiaries of Evergy, Inc., Kansas City, Missouri. Jeffrey EC is composed of three separate 800-MW units providing a name-plate energy center capacity of 2.16 gigawatts.
Over the past 10 years, the KGS has led or played a key role in five large-scale CCUS projects funded by the U.S. Department of Energy. Working with private partners, the KGS has successfully injected CO2 for Enhanced Oil Recovery in the Wellington Field in Sumner County south of Wichita and the Hall-Gurney Field in Russell County. During previous and ongoing projects, the KGS has amassed large quantities of seismic data, drilling data, rock cuttings and drill cores – cylindrical segments of rock brought up intact from thousands of feet underground.
The KGS team is participating in all five CUSP focus areas: policy and law, data management, data analysis, economics and outreach.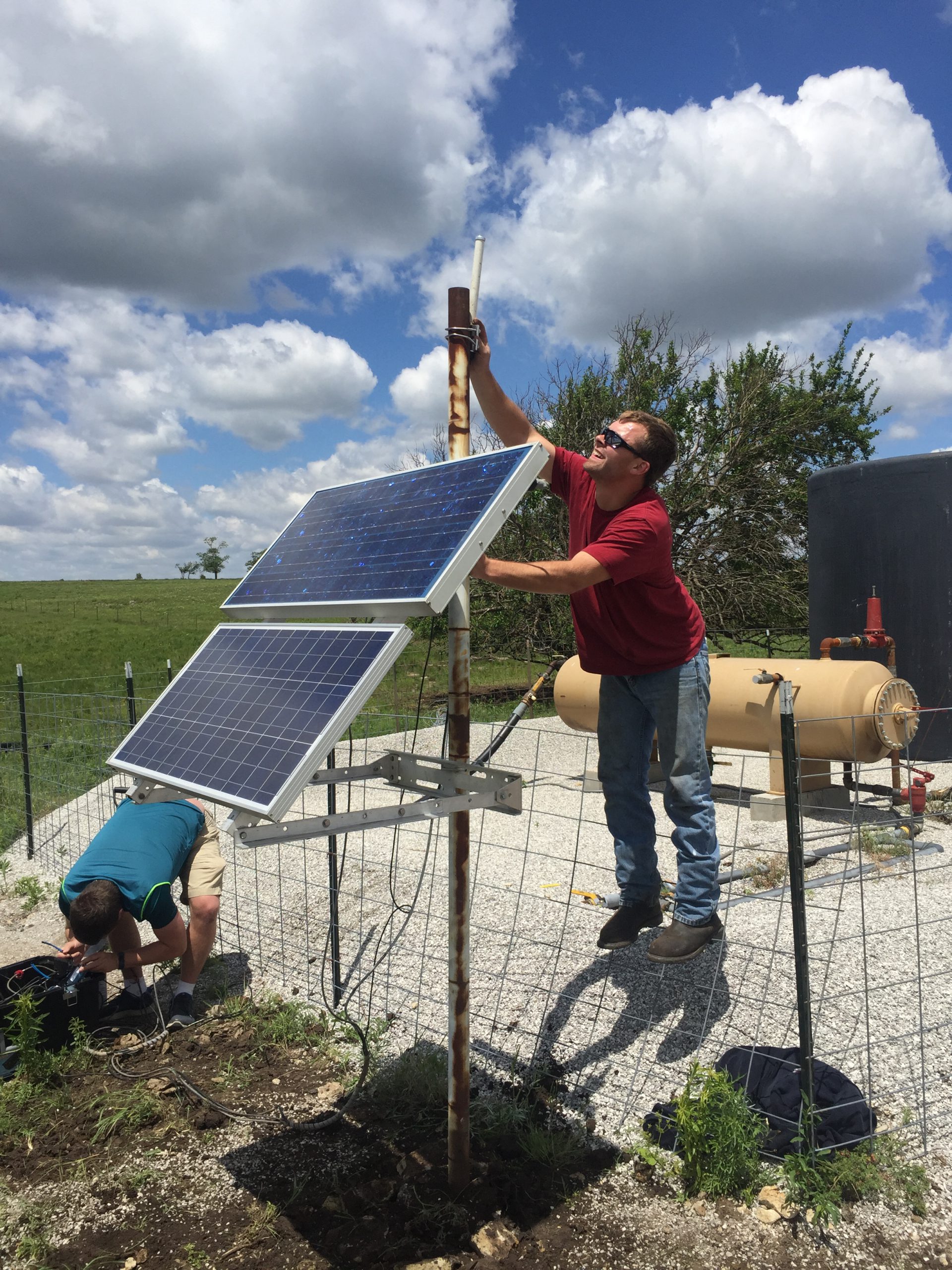 Seismic station installed successfully at Wellington Field in south-central Kansas and is now transmitting data via telemetry along with the rest of the network. This data stream can be monitored in real time to observe any detected seismic events.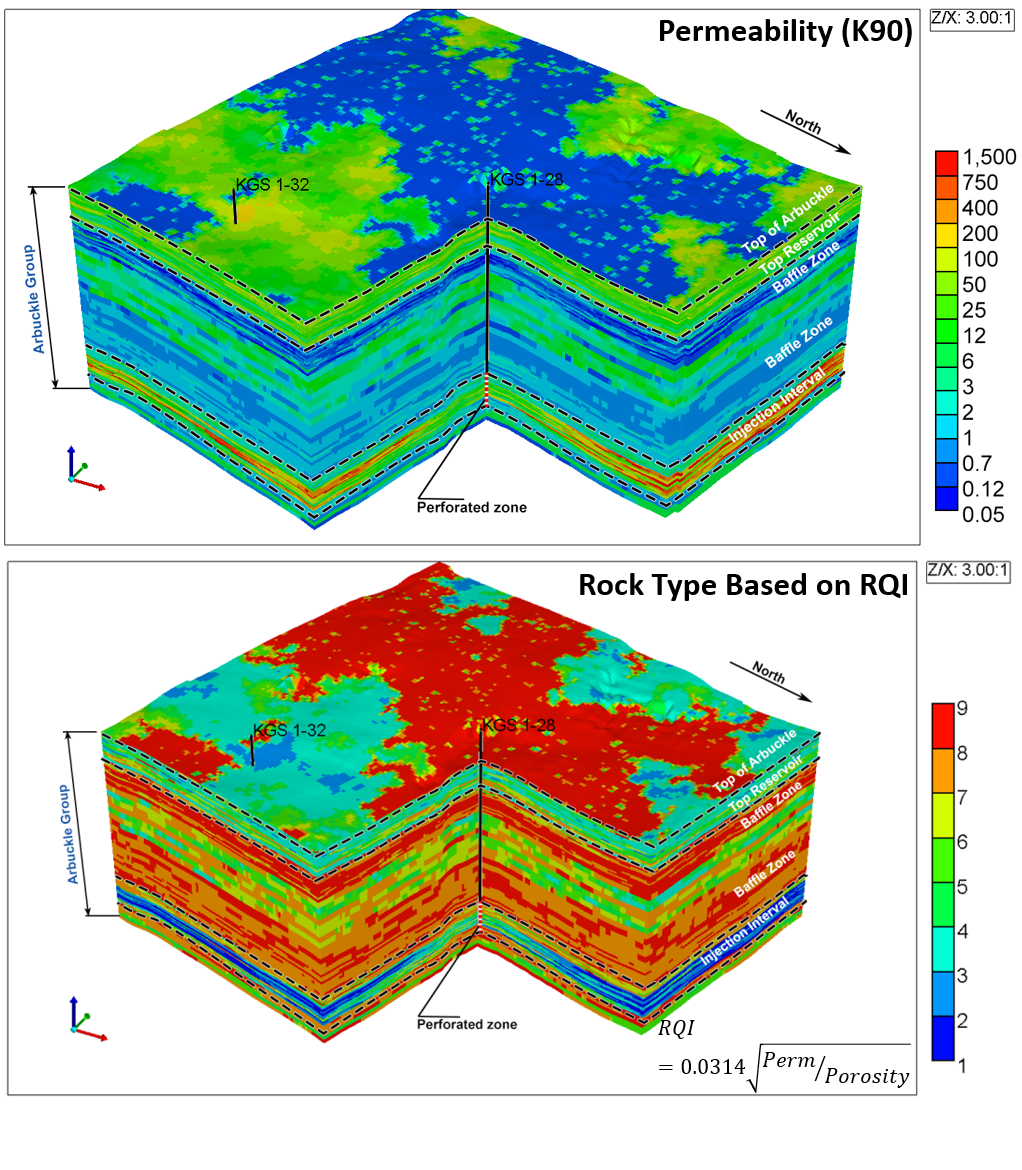 Permeability and rock type geologic model for the Wellington Field CO2 storage pilot which was used in UIC Class VI permit.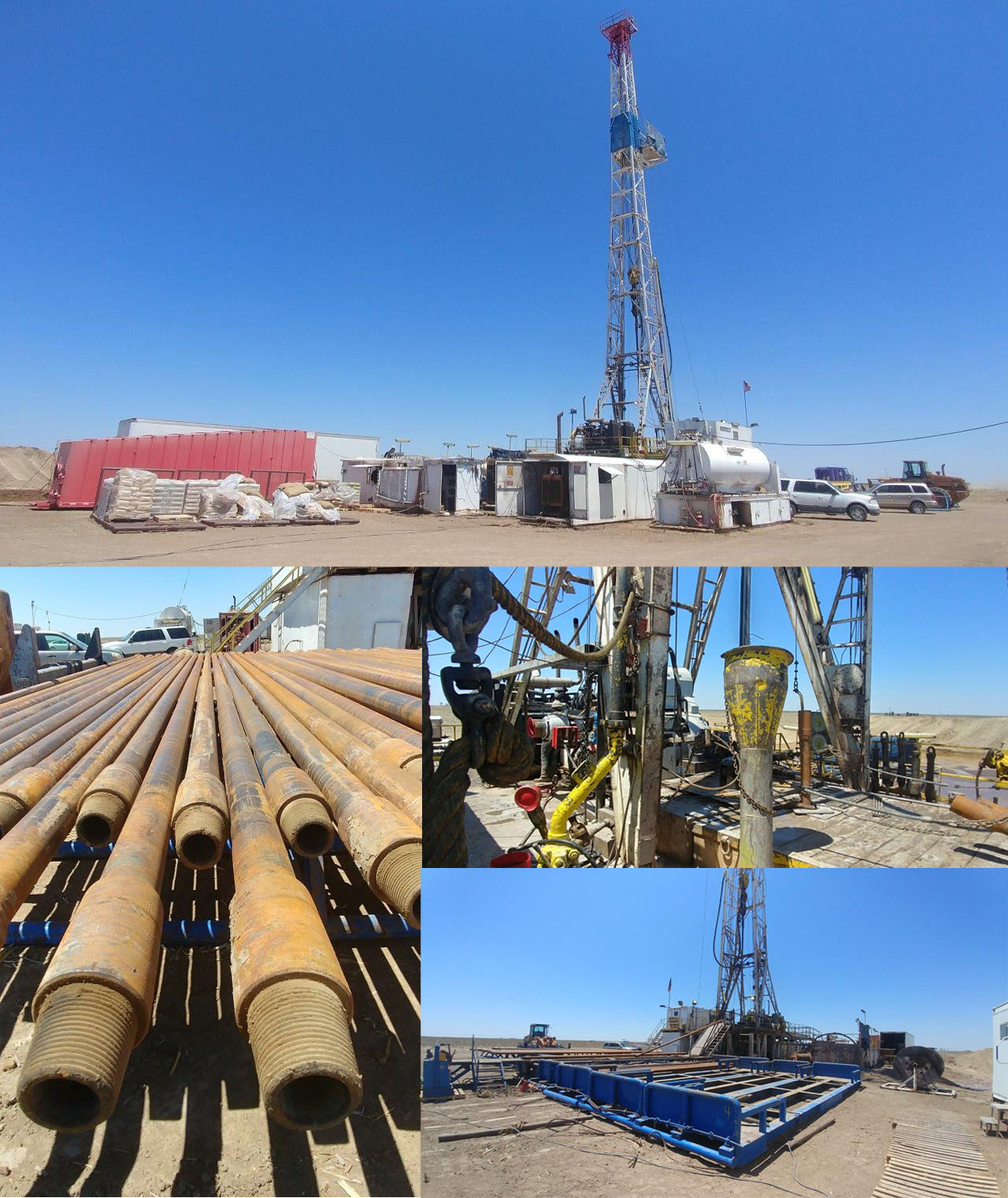 KGS 6-10 scientific/characterization well was drilled for CarbonSAFE Phase II project in western KS.
Currently, the KGS team is selecting database architecture to create an interactive, open-access dataset that will include subsurface, infrastructure, industrial and other data. It will include information from all CUSP member states, and possibly beyond, that will be very useful for CCUS projects, the oil and gas industry, regulators and other stakeholders.
The KGS is helping well operators prepare sites to qualify for 45Q credits and apply for UIC Class VI permits and we are working with developers to screen geologic sites for potential commercial projects.
The KGS also is working with the Los Alamos National Laboratories and other CUSP members on methods to analyze data that will provide a better understanding of local and regional infrastructure development potential, infrastructure costs and ways to optimize future project development.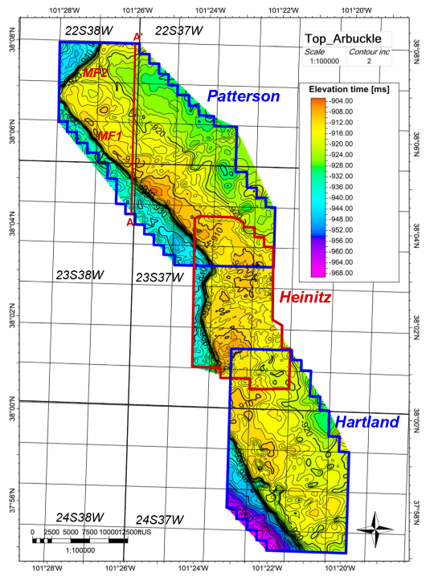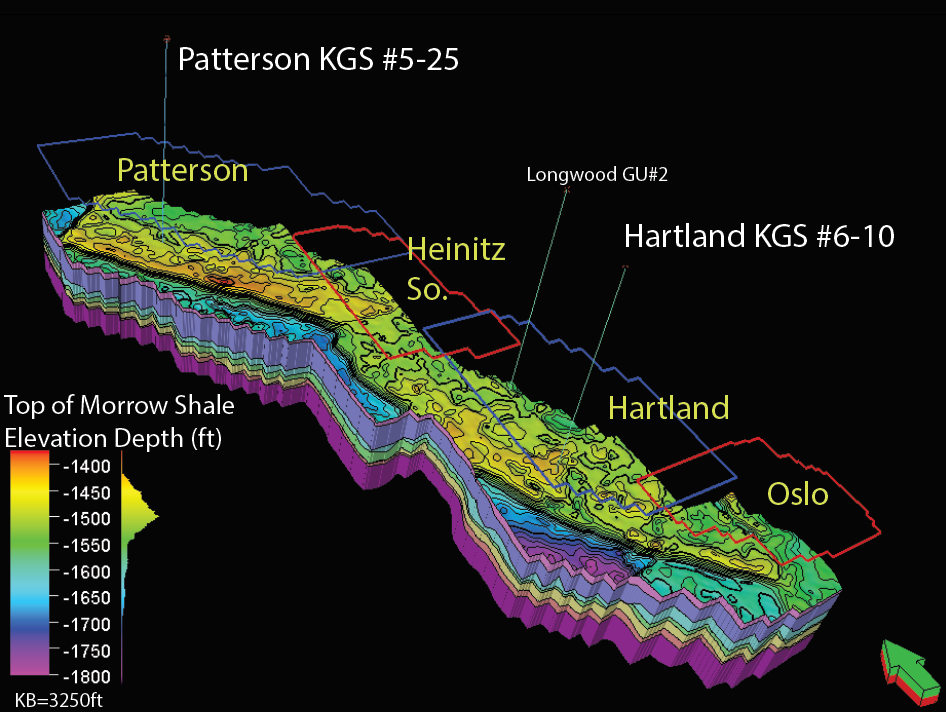 Depth structural contour map of the top of the Morrowan shale, showing the configuration of the primary seal in the Patterson–Oslo area (contour interval is 25 ft) and location of seismic line.
Structural model in the Patterson-Oslo area with the legacy deep well (Longwood Gas Unit #2) and two new deep wells (Patterson KGS 5-25 and Hartland KGS 6-10) noted. The top of the model is a depth structure map of the top of the Morrow Shale. On the left side of the legend is a histogram of elevation depths for the Morrow Shale top.