Utah is rich in geological diversity and is fortunate to have abundant opportunities available for large-scale CO2 sequestration in the subsurface including 1) the Leadville Limestone and Paradox Formation in the Paradox Basin, 2) the Mesaverde Group in the Uinta Basin and Mesozoic-age sandstone units in the south and east (e.g., the Navajo, Weber, and Entrada Sandstones), 3) the Navajo Sandstone in the northern San Rafael Swell, and 4) the Navajo Sandstone or deeper Kaibab Limestone in the southwest part of the state [1].
As part of CUSP, the Energy & Geoscience Institute (EGI) at the University of Utah and the Utah Geological Survey (UGS) are teaming up to evaluate CO2 sequestration potential across the state and advance detailed characterization projects. EGI and the UGS have led the way on Carbon Capture and Storage (CCS) research and projects in Utah for over 20 years, leveraging each organization's strengths and sharing technical project tasks related to assessing the potential for geologic CO2 sequestration in Utah. Previous CO2 projects in Utah include CarbonSAFE Rocky Mountains, the Aneth Demonstration, NatCARB and the Southwest Partnership. In addition to being part of CUSP West's regional assessment efforts, there are two CUSP West Focused projects currently underway in Utah: 
CCUS at the Iron Mountain Iron Mine and Direct Reduced Iron Processing Plant, southern Utah, DOE Award No.: DE-FE0031837 – Phase 1 Ongoing – This project is a detailed geological assessment of the feasibility of CCUS at the site of a potential direct iron reduction (DIR) processing plant associated with Iron Mountain Mine, west of Cedar City in southwestern Utah, projected to emit upwards of .5 million tons of CO2 annually.
Downhole Source Tomographic Design for CO2 Plume Detection – This project is investigating the potential for reverse vertical seismic profile technology to monitor the migration of supercritical carbon dioxide plumes underground. A partnership between EGI and Paulsson Inc. of Van Nuys, CA is designing laboratory experiments to test the efficacy of a downhole source tomographic imaging technology for use in carbon sequestration projects.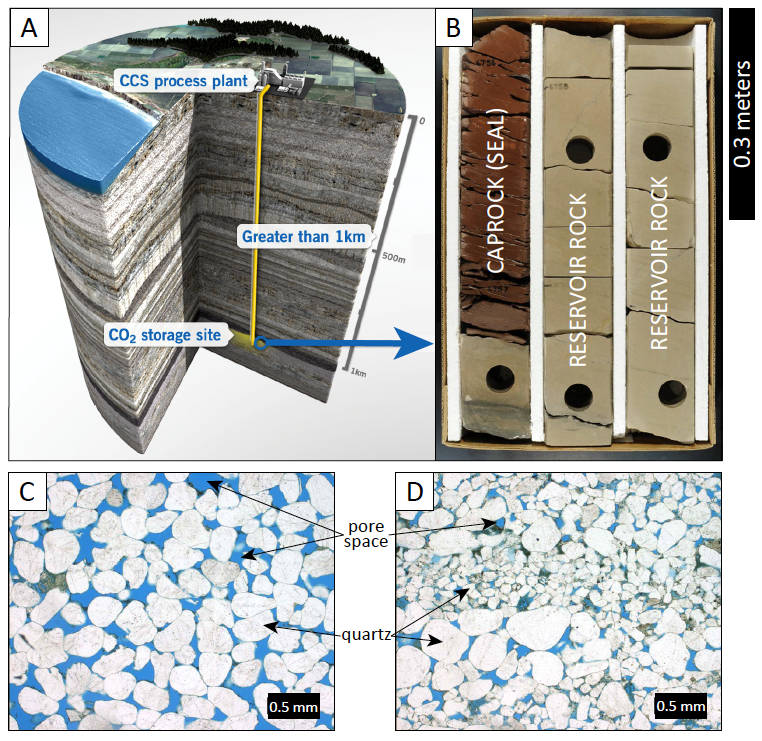 Figure: Detailed reservoir characterization is being done to assess carbon sequestration potential in Utah. From Szymanski, 2022 (1) with (A) CO2 storage can occur by injecting gas deep underground into rock strata deemed unsuitable for other purposes. Modified from imagery provided by Global CCS Institute (https://www.globalccsinstitute.com/resources/ccs-image-library/). (B) A 4-inch-wide slabbed rock core from the Covenant oil field, Sevier County, Utah. The sandstone (buff-colored) is a good reservoir rock due to its porous and often permeable grains. The mudstone (red) is a good geological seal because it has low permeability and prohibits fluid and gas from escaping upwards. The sharp color contrast indicates the boundary between the seal and reservoir rock. The five holes in the rock core are where plugs were drilled into the rock and removed for analysis. (C) and (D) are photomicrographs of Jurassic-age Navajo Sandstone (reservoir rock) from the Covenant oil field that illustrate pore space availability (blue areas) for CO2 storage between quartz grains (white areas). Images B, C, and D modified from Chidsey and others (2020) (https://doi.org/10.34191/ss-167). Note the significant difference in scale from the well (kilometers) to the core (meters) to the rock grain and pore space (millimeters).
Check out what the CUSP researchers are doing in Utah to advance decarbonization and harness Carbon Capture, Utilization, and Storage (CCUS) technology right here in the U.S. 

Home to leading experts in the fields of geology, geophysics, geochemistry, and engineering, the Energy & Geoscience Institute (EGI) at the University of Utah is the world's largest University based industry cost-shared upstream E&P research program of its kind, with 30+ Corporate Associate members representing 20 countries.
The institute is uniquely positioned to engage high caliber, innovative, and creative geoscience and engineering professionals to expand the body of scientific research and knowledge in the hydrocarbon and geothermal fields for both industry and government projects. EGI staff hail from 15 countries, speak 20+ languages and have a wide range of technical expertise that creates a diversity of thought that fosters cross-discipline solutions and technologies. Carbon Management is a key focus of EGI's long-term research and development strategy.

The Energy & Minerals Program at the Utah Geological Survey brings together a team of geologists with extensive expertise in reservoir characterization and subsurface assessment. Founded in 1931 the UGS's mission is to provide timely scientific information about Utah's geologic environment, resources, and hazards. The UGS Energy & Minerals Program provides the federal, state, and local government, industry, and other organizations with data and other information regarding statewide energy and mineral production and potential. Key contributors: Mr. Michael Vanden Berg – Program Manager, Dr. Eugene Szymanski – Iron Mountain CUSP Focused Project Lead, Dr. Julia Mulhern – CUSP Regional Characterization Lead.
Publications:
Smith, K.D., Szymanski, E., Hardwick, C., and Hurlbut, W., 2022, Reducing geologic risk uncertainty for carbon sequestration using modern gravity surveys and modeling in Iron County, Utah, in Proceedings GSA Annual Meeting, Denver, CO (October 2022)
Szymanski, E., Vanden Berg, M.D., Jagniecki, E.A., Jensen, A., and Moodie, N., 2022, Mitigating Geologic Risk Uncertainty for Carbon (CO2) Sequestration in Multiple Subsurface Targets in the Iron Springs District, Iron County, Utah, in Proceedings AAPG Rocky Mountain Section Annual Meeting, Denver, CO (August 2022)
Szymanski, E., Vanden Berg. M.D., Moodie, N., Jagniecki, E.A., Hardwick, C., Jensen, A., Hurlbut, W., and Smith, K., 2022, Assessing the Geologic Carbon (CO2) Sequestration Potential of Multiple Subsurface Targets in the Iron Springs District, Iron County, Utah, USA, in Proceedings GSA Cordilleran and Rocky Mountain Joint Section Meeting, Las Vegas, NV; (March 2022)